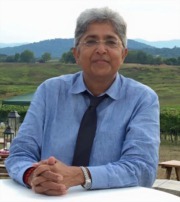 Geeta Jhaveri moved to the US in 1982 to join University and graduated with Honors from Hofstra University, NY with a degree in Information Systems. After graduation she started her career as a IT professional, managing and training employees within the company. She then transitioned to the organizations Sales Team.
As a successful Sales Professional, Ms. Jhaveri managed the accounts of several large multinational manufacturing companies, negotiating and closing multimillion dollar deals.
In 2011, Ms. Jhaveri moved to Richmond for personal reasons and fell in love with the city. Using her people skills and falling back on her passion of music, Ms. Jhaveri successfully created a DJ business in Richmond, VA. With her background in DJ'ing as well as her experience in business and marketing, she has been able to combine two fields that she enjoys – a natural path to choosing a career as a Real Estate office manager.
As the Office Manager Ms. Jhaveri supports our Multi-Million dollar producing team in all administrative and office duties. She helped create an implement a new system of organization to run a more efficient business. She also works closely with vendors including attorneys, contractors, builders, city/county registrars, lending institutions and clients to help the team achieve their goals. She coordinates appointments and meetings for clients and agents to ensure a smooth flow of their day. Her responsibilities also include managing telephone calls, including screening incoming client calls and corresponding with clients and agents.
Ms. Jhaveri follows all client files from beginning to closing for the agents. She helps coordinate multiple listing and showing to ensure seamless transitions for buyers and sellers. She provides transactional support to brokers and agents.
Together with Robi Ahluwalia and his team, their relationship, through a shared focus and goals, results in the best possible service available in the marketplace.